The Challenge: Quality testing of advanced copper-based broadband solutions
To test the DC/DC power-supply module, the controller daughterboard module and the base motherboard module for the Genesis mBond® system for delivering affordable superfast broadband over existing copper networks. In-depth testing is required to enable the finished product to meet all the relevant quality standards to the extent that the products meet customer requirements prior to shipment from SMT Developments, the manufacturing subcontractor.
The Solution
The heart of the test system is a single extra-large test fixture that accommodates positions for the DC/DC power-supply module, the paired base motherboard and controller daughterboard modules on one probe bed. Control of the test process is carried out by National Instruments TestStand software with LabView modules controlling all aspects of the test routine. A power supply and digital multimeter are mounted externally to the test fixture, and the switching module and a Goepel boundary-scan system are fitted internally.
Sensors detect which modules are fitted to the fixture, and the operator uses a barcode system to ensure that all the PCB modules are automatically populated to the correct fields and that the correct test is selected to be executed.
The actual tests that are carried out include pre-power tests, power-on tests, boundary-scan testing, I2C and NAND flash programming including MAC address programming. The system also includes operational software and the generation of manufacturing data, as well as an interface to the contract manufacturer's 123 insight MRP Software and label production system.
Image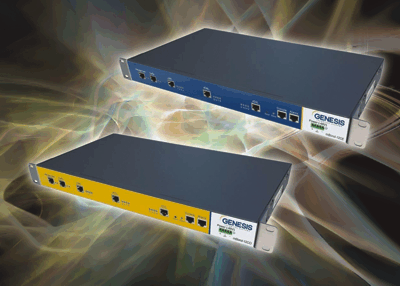 Implementation
Peak worked closely with Genesis and test software supplier Simplicity AI to ensure that the system met the test procedures laid down by Genesis for a quality finished product. This work has been funded by Genesis as the design house, who have ownership of the system and deploy it to SMT.
This partnership approach forms the basis of a very important business model for Peak", who have applied their specialist knowledge of test hardware and software to meet the specifications laid down by Genesis, as well as supporting the contract manufacturer in implementing the final test solution in the production environment.
Image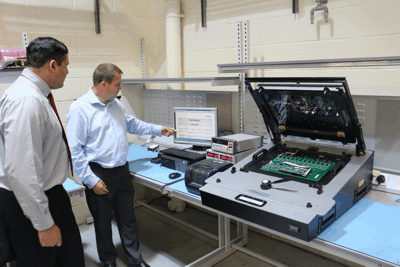 A three-pronged approach
The Peak system forms part of a three-pronged approach to quality testing developed by Genesis, which also includes automated optical inspection (AOI) and final functional testing.
As well as helping to ensure the quality of the end product, the investment in automated test has significantly boosted the contract manufacturer's productivity. Not only is the whole testing process time dramatically improved: it is also possible to carry out multiple tests that would be impossible with traditional discrete test instruments, resulting in a significantly overall increase in test coverage.
Image