The Challenge: Functional Test of an 'In Vehicle Location' System
To functionally test an 'in vehicle location' system that includes GPS, GSM, serial and can bus communications.
The customer required the test system to be designed to allow expandability and adaptability so future products could be tested. After each test, the results needed to be transmitted to a DCS (Data Collection Service) to be recorded and released. These results were then to be analysed using WRAP (Web Reporting Analysis Package) software.
The Solution
A cassette based design was chosen to meet the adaptability requirements of the customer. A PXI chassis was the preferred hardware route, which allowed the option for system expansion. PXI is a well-established industrial test platform, offering a huge range of interface cards.
A drawer based approach was chosen to enable quick and easy loading of the unit for testing. Sensors are included throughout the fixture to ensure the controlling software knows the fixture state at any stage of the test process. On completion of testing, the drawer lock is released and only when the unit is removed can the cycle be repeated.  
Image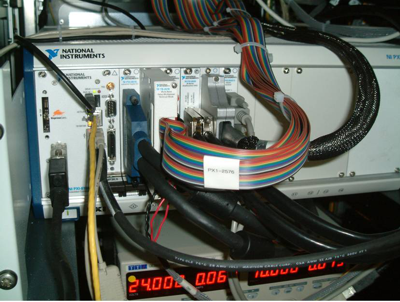 Implementation
The test instrumentation was housed in a custom 19" cabinet. This cabinet also accommodated the mechanical hardware to accept the cassette, with the drawer mechanism housing the unit under test and the pneumatics to operate the mechanical engagement. The basic hardware is housed under the drawer platform and encompasses the PXI chassis, Triple DC power supply and mains distribution/emergency stop module.
Image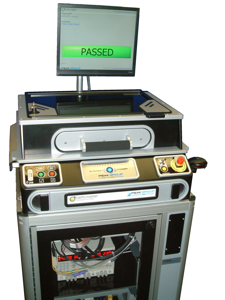 National Instruments
The sequence file was written in National Instruments Teststand and any bespoke software required was written in Labview. For each step in the sequence the test step result was appended to a string variable. Once the test process was complete, test data was sent to the DCS and Peak WRAP software analysed these results. 
Image